Welcome Readers, Authors, and Friends,
4/28/2018 – I'll be updating and adding more REVIEWS of Books I have Read Soon!
.

FOR READERS  ~  IT'S ALL ABOUT THE BOOK REVIEWS!
Book reviews are an important part of an author's progress and their craft as a writer. It is two-fold as they help readers to know if a book is worth the time and money, and it helps an author's ranking on Amazon. I try to give my own thoughts and feelings about the books & novels I have recently finished. What I thought about the book, did or didn't like, and more. Reviews also reveal what readers think about books and the authors who write them.
Yes, you can go to GoodReads, Amazon, or even Barnes & Noble to read reviews to, but when I share and promote my clients books, I want readers to know all about them! So when you visit here, you will get an honest, insightful, and organic review by a real reader, ME.
I don't think any author should have to pay big $$$$ for a book review when there is a huge amount of organic, real readers and book reviewers who will do them at low-cost or even FREE.  There are many fabulous book promo sites who let you list your books for free, and so book reviews, so make sure you check out my "Promo Tips & Advice page" here on my book blog authors before you leave.
My feelings as a writer myself, I want to know what real readers think of my craft and work as a writer, so I will share not only my review of books, but I may share some other reviews from readers on Amazon to let you know what other readers. So when visiting here, it can be a one-stop site to view new reads and reviews and learn more personally about the authors who write them.
Now I just added a new feature page on my Recovery Blog that now shares all my books I have read for addiction and recovery writers and authors. Many share their stories of how they recovered from many types of addictions and they are inspiring reads of memoirs, fiction, nonfiction and more! "Recovery Start Here! A Gamble Free Sober Blog" …
.
.
Book Review of  " Expect Delays: How to Reclaim Your Life, Light and Soul After Trauma by Author, Dr. Danielle Delaney Th.D. D.D.
About The Book:
You CAN heal ENTIRELY from severe, deep trauma – without needing a lobotomy.
Through her first book, Expect Delays, Dr. Danielle Delaney shares with you the traumatic experiences of her assaults, and her journey of recovery and growth into the powerful woman and trauma expert that she is today. Recovery is not a simple path, and you will encounter detours and delays along the winding road. You will discover and uncover knowledge from the first chapter, Demolition, when an unexpected and terror-inducing life event totals you, to the final chapter, Merge, when you are able to integrate this event into who you are and learn how to Merge with your own painful or traumatic experiences; Dr. Delaney will teach you new tools and belief systems for living through it and surviving. Discover how to endure and to emerge victorious.
********
My Book Review:
"Don't Expect Delays Reading This Book, Just Sound Advice For Overcoming Trauma!", April 9, 2017
This review is from:

Expect Delays: How to Reclaim Your Life, Light, and Soul After Trauma (Paperback)
I was honored to receive a signed copy of Danielle's book, what an amazing life she has had thus far. From the dedication page that came from the heart to the very last page, I couldn't put this book down! I am a childhood sex abuse survivor myself and have been through much therapy, but the professional advice and techniques in this book, many will learn to rebuild their lives from traumatic events into a LIFE of peace and serenity.As trauma victims, we need to begin the journey of healing and come to learn "it wasn't our fault." That is when we can start the process of working through all the fear and shame, and begin to rebuild a beautiful life, and some in recovery as I turned to addiction as I was not raised to know help was available and it was "ok" to reach out for it.
Danielle's book guides you through what is needed to accomplish this and SO much more. At times in her sharing of her life, it feels and reads as if you are "two girlfriends having coffee and just talking about life." What she has endured, reading it is heartbreaking, but learning about her life today which includes her choice of "profession" to care and help others who have experienced the same path is a testament to the bravery she has, and the hard work she has done to overcome is AMAZING.
I don't like to spoil a good book, but one of my areas in the book I felt most helpful was "Dangerous Curves Ahead: Caution!" And like her father would say: "if you weren't tough, you would not still be here."
That chapter and quote by her father hit me hard as I had turned to addiction when my pain came back from my childhood haunting me and had two failed suicide attempts from all the drama of it and learned I was suffering PTSD. Thankfully GOD stepped in, or I would not be here today.
Danelle's book will help many and WILL save lives. What an incredible legacy to leave behind! Well written, easy to read and I commend the Author for a book well done. If you know anyone who has been a victimized, has trauma or been through traumatic events? Please share this book with them. I know I will!
______________________________________________________
Book Review of " Finding Faith " by Ellie Pulikonda Author also of "SPLIT Second."
Amazing Book That Reads Like Memoir . . . .

 January 21, 2017,  By  
Catherine Lyon

This review is from: Finding Faith (Paperback)
Three Women, Triumph when believing FAITH. . . .What an amazing fiction book that reads like three women's combined memoir. This is an exceptional read for women of today who may feel lost, low self-worth and by helping one another as they come together by no coincidence. They begin to learn when their feeling in "Bondage" and limited life choices of their own, they help one another to lean on and learn FAITH can carry you through hopelessness and that anything is possible. The story proves women are powerful together instead of one alone.
Very well written, excellent developed characters you cheer on, and a storyline that will "touch the heart & soul."
About The Book:
Three women, each caught in circumstances which limit her freedom to be, to act, to live as she chooses. Each reaches out tentatively, only to fall back in anger and fear. Despair is their constant companion. Helping each other may be the only hope for each of them but their tentative bond is threatened by their fear. Trust is an elusive and alien concept to each. Moments, when they are in accord are rare but they do happen, perhaps giving them a glimmer of the hope and the will they need to keep trying. Join Mae, Mira, and Carla as they navigate the tricky path of finding faith.
Learn more about the author here on  Amazon .  .  .  .
__________________________________________________
Book Review For " Caged, a thriller suspense   By Author, Onaiza Khan
.
.
ABOUT THE BOOK:
Winner of the story peak contest, this is the brand new novel from India's upcoming author Onaiza Khan
"Keep your mind right, put your body in action and let your spirit guide you."

These are the words keeping her sane after her husband kidnaps her, tearing her away from her life in India and keeping her captive in Northern Canada.
But after three months with only a servant, a television and the screams of another captive keeping her company, she begins to lose touch with reality – even forgetting her own name.
In her struggle to escape, she discovers an inner strength and powers previously unknown realigning her past, present, and future.
Editorial Review:

"Author Onaiza Khan's novel Caged billed as a psychological thriller novel, is without question more. Kidnapped by her new husband and kept locked in her room for three months, she begins to lose touch with reality. She remembers the abuse, hurting, and hearing another person screams of terror and pain.
What is real and what is not?
There is more to her story than appears on the surface."
Buckle In and HANG ON!

January 21, 2017,  By  
Catherine Lyon
This review is from:

Caged: A Psychological Thriller (Kindle Edition)
Wow! What an exceptional "Psychological Thriller" that keeps you from putting this one down until the LAST PAGE! Great storyline, well-developed characters, and one hell of a suspenseful RIDE! Her story is real…Highly Recommend This one!
__________________________________________________
.
.

About The Book:

Seventeen-year-old Melanie Easton grew up in a lonely loveless home and accepted that she was facing an empty life. Unable to reach out to other children that she attended elementary and High School with, her quiet existence seemed to be her lot in life. One morning fate dropped a new friend into her life. As unexpected as it was that she made this friend, she noticed that changes started taking place in her life. After making a new friend, she finds that changes are occurring in her life. Will they be wonderful changes?
.
BOOK REVIEW: 5-Stars
"I Could Relate To This Coming of Age Story Personally"
Where do I begin? Even though this a piece of fiction, you learn right away that this story is one of many young girls journies and path in life. Starting from childhood to about 17, Melanie has faced abuse, abandonment, non-existent parental love as the list goes on. I could actually "feel" many of the same feelings Melanie felt. I to had a rough childhood. As I, and Melanie, just wanting to be heard or acknowledged from your parents would have been a sliver of hope for unconditional love.
I don't like to spoil a good book, so what I will tell you is that the author did an exceptional job in writing this storyline as it shares many topics through her characters that brought meaning.
And when a writer can make you feel what she is writing with a tear shed, a smile with a laugh, a girl longing to find some truth, the power of friendship and feeling her character has 'Triumphed' by the end of the story?
Now that's what makes a book a great read like this one!
And that is exactly what you get when reading "The Path of the Child." It leaves you feeling inspired, learning the power of love, and shows we all have a "seed" within us to overcome anything in our lives through Melanie…. I will be waiting for book 2.

___________________________________________________
"Pieces of Pottery: Stories of Loss and Redemption" by Author, Dan Buri
.
BOOK REVIEW:
An amazing read of short stories by Author, Dan Buri that will make you "feel" a little uncomfortable as you journey through these stories. I mean this as a "compliment" to the author.
I don't like to spoil anything from any book I read, so I can tell you this is an exceptional read as each story is of love, loss, death, life and will make you examine your own life from childhood to present.
Dan has a unique way with his writing style, narratives, and characters. He pulls you in from one story to the next, which a storyteller should be able to do when writing shorts. And does he! The stories that 'touched me most were story one. The loss of a child can be such a devastating loss to any parents, but you "feel" the rawness of this event not being a "natural part of life." within Dan's writing.
I would have to say the last story in this collection is my favorite. I know this book will not only touch many hearts, shed some a few tears, will help others who may be going through rough waters of life. "This to Shall Pass."
Fantastic Read and Highly Recommend to All!
_____________________________________________________
"Tales for the Sisterhood: A Collection of Short Stories ~ Book 1" – By Author, Diana Jane Health of Australia …
.
( Click book to Amazon ~ New Release! E-book only $2.99)
.

About Book One:
In this debut print collection, Australian author Diana Jane Heath introduces readers to vivid and fully imagined characters who capture hearts and minds as they delight and challenge.
Each of the short stories in Tales for the Sisterhood featured female protagonists encountering the human struggles of unrequited love, searching for one's true identity, and abandonment, as well as the pain of bullying and even the horror of human trafficking.
Drawn from Diana Jane Heath's vivid imagination—apart from "Just in the Nick of Time," which is based partly on actual events—the varied narratives in this collection are united by their collective ability to inspire and empower women facing the myriad challenges of modern life.
Peppered with surprise plot twists, unexpected endings, and important truths about the reality of social injustice in the world, Tales for the Sisterhood is not for the faint of heart. Graphic scenes and mature themes help illuminate difficult issues and raise awareness about some of the challenges and dangers faced by women around the world.
Even so, this book should not be missed. It's a dazzling collection of stories about women, for women, and written by a woman of great skill and understanding.
.

My Book Review:

Format: Kindle Edition Verified Purchase
"Exceptional Read for the Ladies"
Author, Diana Jane Heath of Australia has hit GOLD with this adorable collection of whimsical short stories. These shorts will make you laugh like "The Hot Antenna Guy" from the story "The Dinner Date" to the intriguing story of "The Community." I enjoyed how the author peppered in much real life things, such as TV shows and everyday people as well. Each story flows from one to the next easily.
It's a delightful, humorous read while shining a light on a variety of topics and issues women all over the world may have experienced, or maybe not. Then you get to the story of "Aislynne" and it will tug at your heart with a tear in your eye. I have enjoyed reading this collection. And I am sure the author is wondering which was my favorite story?
Honestly? Each and everyone.
Diana is an exceptional writer. She makes all her characters vibrant and stands out in each story. Each story shares a message. Ladies, do yourself a favor and spend a weekend reading this one.
You will enjoy it!

____________________________________________________
"Reclaiming Your Addicted Brain: A GPS To Recovery" By Author's Roger Stark and Irwin Morse.  Available on Amazon and Barnes & Noble.


.

(Click book to Amazon)
My Book Review:
Author's Irwin Morse and Roger Stark did an exceptional writing job with this book. Irwin's personal experiences are invaluable and brought this book to life for recovery readers. Roger's coaching knowledge working with others with addiction shines in this book as well. Right off in Chapter One with, "Monkey Brain and Monkey Brain in Action" made me wish this book had been available when I started my own recovery path in 2007. It just may have saved me from some terrible financial choices that made me know I needed more work in my recovery in the area of my "Financial Inventory."
Another area that hit home for me in this book is when George spoke of the experience of, "Men Don't Cry." Wow! I had many experiences like George after his father "slapped him across the face" and I could feel George's RAGE within the written words. My own parents had done this to me many times over, and it carried into my adulthood, adding fuel to my addiction later in life. Other areas in the book that are excellently covered are denial, shame, childhood trauma, and so much more. It really is a GPS Guide to Recovery.
This book has so much helpful information, taught skills and advice within these pages. One of the best addiction/recovery books I have read to date! I highly recommend this book to those looking to start recovery and families that want to support the addict starting recovery. It will help those to learn not to enable the addict when they start the road to recovery. Family and friends will learn the right way to support them.
Just sorry that I can only give it a 5-Stars when it deserves a 10-Star Rating!
_________________________________________________________
New Book Release and Wonderful Romance – by Author, Devian Nikei
"Just In Case" 
.

.
About The Book:

Justin Moseley is a self-centered, egotistical jerk….
He's a real piece of work… but he doesn't know it. For Justin, this fact is a mystery to him. Due to a tragic, near-fatal accident, Justin is left without any recollection of the previous year. He slowly begins to discover what an uncaring villain he has been, by having to relive the year through the eyes of the women that he loves, as they recount to him tales of his deceit and betrayal. As Justin fights to get his life back and redefine himself as a man, he begins to realize just how much he has taken for granted and how many people he has hurt. As he tries against all odds to renew his relationships with those closest to him, he has to contend with changing the minds of some who are not yet ready to forgive or trust him again.
.
My Book Review:

An Amazing Contemporary Romance Worth Reading…
I was happy to be given a copy of this book by the author for a real honest review and read. Sometimes an author can have the ability to write a fantastic romance book as a piece of fiction, but a true writer can also use the same topics of a fiction storyline and put it into a real-life non-fiction. And that is what Author, Devian Nikei has accomplished with "Just In Case."
A romance story that at times gets a wee bit "out there," but reels you back in with her character Justin, a no-good cheater and womanizer who finally comes to his senses of real inner self-awareness. Wanting to change to be a better man and reclaim his life back as the real man he knows he can be!
That story can easily be set in a real non-fiction read. The author has done an exceptional writing style and deliverance. Other than the little detour where the storyline seemed a bit far fetched, I enjoyed this book from beginning to end. Who says the love of a good woman can not get a man to see who he really is in a mirror and make him want to change FOR LOVE and for his WOMAN?      ***** 5-Stars!
________________________________________________________

BOOK  REVIEW: Book One – "MONKEYTRAPS: Why Everybody Tries to Control Everything and How We Can Stop."
Informational, funny and true!
.
.

"Nothing Like Calming The Control Monkeys In Your Head!"

I am a person who lives life in recovery from addiction. I can tell you that after reading this fine authors e-book, I now know I was also addicted to "Control." But this book is not just for those in recovery. It is for everyone.
What an amazing guide, resource and wonderful read on how to grab hold of control and remove it from your life. Steve did a fantastic job with writing this book. And of course, I loved the humor and wit in making light of just how bad this behavior is, and how it invades every part of our lives. In our relationships, co-workers, spouses, family, etc.
Steve clearly lays out how to remove control out of your life, and shows just how much "negativity" surrounds this behavior. If you want a more peaceful and happy life? I highly recommend everyone to read this amazing book! When I entered recovery, the first thing we are taught is: "we have no CONTROL over people, places, and things, and our recovery journey will be more smooth if we let go of control."
Funny, I have a list made already of those I will be recommending this book to! LOL.
A 5-Star read worth your time!
_________________________________________________
BOOK REVIEW   SWEET DREAMS Baby Belle  ~ A Contemporary Thrilling Mystery …
By Author, Kim Carter
.
(click book to Amazon)

About The New Book:

Lizzie, a small-town waitress, thought she'd finally met her prince charming in Dr. Grant Chatsworth. She was young and in love, and the quick courtship ended with the four-carat diamond engagement ring of her dreams.
Now residing in one of Buckhead's finest estates, Lizzie soon learns all that glitters is not gold. Her handsome husband, cardiac surgeon, and developer of a new congestive heart failure drug was becoming cruel and controlling. Lizzie finds herself captive in the vast expanse of his estate without a phone or a car, and under the watchful eye of Flossie.
When Lizzie discovers that her husband's drug development company is a Ponzi scheme, she realizes that her life could be in danger if she doesn't somehow escape the gated mansion on the hill.
With her parents deceased, her only hope is to get to Biloxi, Mississippi and seek refuge with her sister, Maggie. Maggie and her husband Leland quickly find a safe harbor for Lizzie in a house on the bayou. However, the house at the end of the street might not be the quiet retreat Lizzie was hoping for.
The confines of her hideaway soon get to Lizzie so she begins sneaking out in the middle of the night to walk in the historical cemetery next door. One night a damaged, carved lamb on top of the tombstone of a small child catches her eye, and the story of the child immediately captures her heart. Just when Lizzie Chatsworth thinks her world can't get any more complicated, she finds herself in the middle of a mystery from the 1800's that is pulling her in and demanding she seek justice!
As her husband's empire begins to crumble, he's more determined than ever to find Lizzie and kill her. But, will the mystery of Baby Belle's death end Lizzie's life first?
BOOK REVIEW:  "Just Wow what a Mystery Thrilling Read!"

Author, Kim Carter has knocked this book/release out of the ball-park! If you love mysteries? All of Kim's books are a must read including this new one. Sweet Dreams is fantastically written, love her writing style and how she is very "Meticulous" about each character. Lizzie's character was my favorite! And I can tell you "honeymoon's" never last forever. With a manic but unique story, this one has it all, mystery, suspense, and thrills on every page. Just a fabulous mystery journey you have to read for yourself!
Highly recommend this one!
Another Reader Review on Goodreads:
"Kim Carter did an outstanding job with this novel! Kim's writing leaves nothing to the imagination on settings or characters. This novel is very suspenseful and full of surprises. I found myself feeling out of breath running with the characters, having chill bumps, tears, and laughter! Truly a book you can't put down. I can't wait for Kim's next novel!"
____________________________________________________________
.
BOOK REVIEW:   "The Truth She Knew" Book One  by Author, J. A. Owenby
.
About The Book:
Mama didn't want me. In fact, she would've traded my soul back for someone different if God would've let her, but he didn't, so she was stuck with me.
For eighteen-year-old Lacey, life at home is a rollercoaster. She doesn't think she'll ever be good enough to truly deserve Mama's love. But when Lacey enters college and meets Walker, everything starts to change. Suddenly, Lacey is face to face with the realization that maybe what she's always seen as normal really isn't. Her entire life—and everything she's ever believed about herself and her family—is abruptly hanging in midair.
Lacey is left facing two paths, and she has to make a choice. The first means walking away from everything she's ever known. The other means never really knowing the truth.
The Truth She Knew offers an honest and powerful glimpse into mental illness, the meaning of true love, and the psychological waltz that a daughter dances as she endures her mother's unpredictable emotions, manipulation, and abuse.
*** Ages 17+ Contains language, sex, and violence
*** This is book 1 in a series
BOOK REVIEW:
Beautifully written & loved every minute of it! By Author, Catherine Lyon 
This review is from: The Truth She Knew (The Truth Series Book 1) (E-book)
"I read J.A. Owenby's short stories last year, and they left a memorable impression upon me. Learning she was writing this book, The Truth She Knew, I was very excited to read! I was blown away with the author's style of writing and found myself highlighting several passages as I read.
I was intrigued to learn more about Lacey and mother from the very beginning, and I kept turning the pages until I almost finished in one sitting to see how the story unfolded. A truly powerful book dealing with sensitive issues in a sensitive and thought-provoking manner. Love when a book shares a topic that is very important today.
This really is an extraordinary story and a must read for 2017. I eagerly look forward to book-two in this series by Jen!
See all her books here on her  Amazon Author Page
______________________________________________________

"The Final Pet Stop (Patches The Dog)" By, Author James Martinez & Helping Tales Publishers . . .
.
.
About The Book:
This book is for anyone who has ever loved and lost a pet. The Final Pet Stop explores the question: "Is there a place that all pets go on that final day?" Follow along with Patches the dog and his friends in this heartfelt and lyrical tale as they give us a glimpse into the wonderful place known as "The Final Pet Stop." The book is beautifully illustrated and has a sure way of reaching children going through a time of grief. This new work comes from the creators of Patches' Awesome Day, Diamonds in the Ruff, The Most Incredible Journey: A Pibble's Path and the award-winning The Dinosaur's New Shoes. . .

Book Review: 

Amazing Little Book and Helpful!
James S. Martinez and his illustrator did another wonderful service for parents with this little book "The Final Pet Stop." When we lose a pet, it can be a difficult time to explain this to little children, but this fantastic little book helps do that.
Again, James and Tim did a fabulous job with the storyline, characters that are vibrant and colorful, and has an important lesson to teach kids, that there is a "resting place" where dogs and animals go to be happy, healthy and have fun after they leave us. Just another wonderful offering for children to learn and will enjoy this book.
I like the imagination of the author, coming up with funny and cute characters. All of James children's books are carefully well written. It can also entertain your children while being an aid to help them and parents share understanding the passing of an animal and grief.  I highly recommend it to parents, grandparents and teachers alike!
.
About The Author:
James S. Martinez was born in December of 1963 on Ramey, AFB in Puerto Rico. He attended Kent State University and was awarded an MS in Biomedical Sciences in 2001. He has been an avid reader and dedicated volunteer for many years and believes wholeheartedly that "One person can make a difference". It's with this belief in mind that he and co-founder Timothy T. Civick, created Helping Tales Publishers. Helping Tales Publishers has committed to making reading have a positive impact on the world by "helping those in need, one story at a time."
.
In order to accomplish this mission, Helping Tales Publishers writes and produces entertaining, empowering, and educational books that teach empathy, compassion, and service to the community to children of all ages.
James Martinez is a freshman author with two books in print, Patches' Awesome Day and Diamonds in the Ruff. Each book is written in a whimsical tone with rhyming verse. The simple and fun stories are paired with beautiful illustrations created by Timothy T. Civick that captivate and enchant the reader. These books also serve the purpose of raising funds to aid various charities across the country. A quote from Diamonds in the Ruff summarizes why Helping Tales Publishers was created.
"If there's a need, help the cause,
Whether you help people or those with paws.
By helping one, you help us all.
Take up the fight and heed the call!"
Please be on the lookout for more books by  Author, James Martinez and Helping Tales Publishers
.
_______________________________________________________
"Arizona Dream: A true story of a Real Life "Oceans Eleven" ~ By Author, Adnan Alisic ~ (Gambling Addiction and Recovery)
 (click to purchase on Amazon)
.

About The Book:
Haunted by the demons from his past, Adnan Alisic escapes Bosnia and comes to Phoenix, Arizona, where he starts a new life. Fueled by ambition on and drive, he starts a successful car dealership, settles down, and lives the American Dream.Tortured by his past, he seeks relief in gambling and loses everything. After being tossed out of the casino, Adnan vows to get back at them. Forced by the gambling debt and driven by the revenge against the casino, he plans an elaborate casino heist. After discovering the tunnel running under the casino, he devises an intricate scheme to get his money back and pay off the debt.
From ethnic cleansing and mass killings in Bosnia, to gambling and underground tunnels in Arizona, you will read Arizona Dream until l the last page where you'll find the real reason and motivation behind the heist.
"In likable, plain-spoken, and insightful prose, full of lush and vivid detail, Adnan Alisic reflects on the suspenseful twists and turns of his one-of-a-kind life path. From the first page to the last, I was completely riveted. This is one hell of a book."
– Davy Rothbart, author of  "My Heart is an Idiot" and creator of FOUND Magazine

My Book Review: 
What an incredible story!!
Author, Adnan Alisic hit this gambling addiction and recovery book, written in prison by the way, out of the ballpark! As a recovering addicted gambler myself for 8 years, I can not honestly say that I never thought of stealing my money back from a casino. I felt that way many times within my addiction.
But Adnan does a fantastic job of giving insights of his life, coming from a war-torn country, seeing the effects of that war on humans, and then coming to America, Arizona to live the American Dream. But sadly, due to the access of gambling casinos here in Arizona, it just didn't work out that way for him and his family. I don't like spoiling the book, so that's all I will share about this true, raw, haunting story. I can tell you, as a writer and author myself, Adnan was able to capture in words this disease of Compulsive Addicted Gambling.
With 1% of our population being problem gamblers, it doesn't surprise me how fast Adnan's life deteriorated from addicted gambling. He was able to write and share his addiction in-depth to give readers an inside look at how far one person can go and just snap when we lose large amounts of money due to addiction. And he is still taking ownership of what he has done while still in prison.  A must read and I highly recommend this book to everyone to see just how ugly gambling addiction can get. Great Job Adnan!
About This Author:
Adnan currently in a Mississippi Prison where he wrote this powerful book. Yes, in recovery and taking ownership for his choice, also after witnessing terrible war atrocities, Adnan Alisić escaped from Bosnia and came to Phoenix, Arizona where he became a successful businessman. Entangled in a gambling addiction, he was forced to execute this sensational casino heist. He can be reached at Alisic.adnan6@gmail.com or http://www.Arizonadreambook.com
.
.
__________________________________________________________
Author, J.D. Burr ~ "I Just Wanted Love: Recovery of a Co-dependent, Sex, Love Addict" Now on Amazon.
.
(click to buy on Amazon).
About The Book:
D.J. Burr is a man on a mission; successful business owner, highly respected psychotherapists and survivor of a dysfunctional life. At a young age, all he wanted was to be loved, but instead found himself targeted by a sexual predator. D.J. slipped into a life of addiction and clawed his way through broken relationships and seedy sex clubs–looking for love in all the wrong places. D.J. will take readers on a roller coaster of emotions as he details his search for grace and love.
My Book Review: "A Hearts Journey in Recovery"

What an excellent read. Being brave to share one's story in a way that those in recovery or not can understand, learn, and have compassion is exactly what this Author was able to accomplish with his book. Being in recovery over 8 1/2 years myself, I know the struggles we go through to recover. And also being a recovery writer and author myself, I know how difficult it is to write what many of us go through with any addiction, let alone a sex addiction and more. And a man sharing his story is not your usual find.
.
Reading D.J.'s story has touched me deeply. I to could relate to family and friends who turn away, and even though our addictions are different, I to spent years just looking to be loved unconditionally, and had many bad relationships, forced ones, ones with men who mistreated me, just because I wanted SOMEONE, ANYONE in my life. But then having that intense need for sex, and thinking it will fill those empty holes in our lives must have been hard to go through. Let alone the health risks as well.
Many 12 Step Recovery Programs tell us we can recover without having to know the WHY'S of us turning to addiction in the first place. Well, this book proves that many of us do find the underlying issues, and past childhood trauma and being raised like I was in a dysfunctional life can affect many of us. Just an exceptional read!
I'm patiently waiting for BOOK TWO!
_________________________________________________________
Author, Christine Campbell ~ "With Vigilance-A Women in long-term Recovery." ~ Addiction & Recovery
.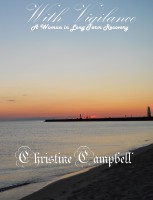 About The Book:
You are invited to read my memoirs, With Vigilance, a woman of long-term recovery. Someone told me my story is the key that can unlock someone else's prison. The slow, painful path back to becoming a functioning member of society, seeking employment, unlearning many messages, took much time, and many stumbles. The gifts and promises are shared along the way as well.
.
I take an honest look at the low bottom of using, the many rehabs, the total lack of family support, and the celebrated 22 years of recovery while finishing my Master degree, Previous books on addiction glamorize and dwell mostly on the insanity of addiction and alcoholism. Freedom from the bondage of self-takes time, patience and willingness. Long term sobriety takes work, doing what you are told, especially when you don't understand why.
 
My Book Review:

Wow! What an interesting read:
What a story and life of addiction and triumph in recovery! I could so relate to Christine, her raw honest look into one's life after such damage and devastation, her story and inspirational recovery journey will 'touch and save' many lives.
It can be difficult to write about ones bad life choices we make within our disease, but Christine has proved that sharing her own story, that no matter how "Hopeless" we can be within addictions? We can Recover if your willing to do the work, as I call it . . . "The inside Job" within ourselves to fix, change, and make amends to others, but importantly to yourself.
I would highly recommend this book for all to read, not just those in recovery, but for non-recovery people as well. They will get the understanding of how hard it is to recover. Especially when we have no family to support us. I was very inspired by this book. . . .
.
Great Job and well written Christine!
_______________________________________________________
Prolific Pacific Northwest Author, Ellie Pulikonda ~ SPLIT SECOND: A Psychological Thriller on Amazon Kindle . . . .
.
.
About The Book:
When do a family's secrets become too dangerous to keep? Find out in Ellie Pulikonda's shocking debut novel, Split Second. Richard Reynolds, a successful attorney, and wannabe politician, has spent years cultivating the perfect image—which includes his trophy wife, Deborah, and talented teenage daughter, Liz. But Liz threatens to ruin it all after severe depression forced her out of college and back home. After she attempts suicide, Richard rushes her off to a private hospital in hopes that the drama will soon blow over.
.
Run by Nick Jensen, the hospital seems to be exactly what Liz needs. But soon Nick uncovers some disquieting facts, like the fact that Liz's depression arose at the exact same time that a classmate was presumed murdered. Liz's uncanny knowledge of the crime's details only deepens Nick's unease. As Liz attempts to heal, her parents' marriage begins to crack in light of mutually held secrets coming to the surface. What is the Reynolds family hiding?
>
My Book Review
For a first time Author, Ellie has come out of the literary gates with a fantastic family mystery/psychological thriller! Most times as you follow a storyline closely, your able to figure the "Who Done IT,"  but not this read, which holds your attention from the first page to the last!
The plot and the characters are well written into a family drama that looks at many issues including mental illness. Something I battle myself. So the storyline was relatable and powerful. I found Ellie's writing style very unique for a mystery writer, an exceptional read for those who enjoy this genre. I highly recommend Split Second to all readers!
Another 5 Star Read!
____________________________________________________
Author & Recovery Specialist, Arnie Wexler ~ "All Bets Are Off" On Amazon
About The Book:
Arnie Wexler's life as a gambler began on the streets of Brooklyn, New York, flipping cards, shooting marbles, and playing pinball machines. At age fourteen he found the racetrack, a bookie, and started playing the stock market. His obsession with gambling accelerated until a fateful day in 1968 when it all came crashing down.
Wexler's gripping narrative leads us through the dungeon of a compulsive gambler's world—chasing the big win and coming up with empty pockets—and how his addiction drove him and his wife, Sheila, to the edge of life. With help, they managed to escape, and together they have devoted themselves to helping others with the problem they know so well.
My 5 Star Book Review:
As a person in recovery from Compulsive Addicted Gambling disease myself for over 8 years,  I can tell you I related to Arnie's story. We in recovery say; "no matter the path we took in our gambling addiction, we all recover from this disease."  Our stories of gambling addiction can be powerful tools to help those who need help from this cunning addiction.
Arnie's book does just that! What a read. I loved the flow of his book, and he really dug deep, and he poured all of his past experiences out between the pages of his book. He was able to write his story without, blame, denial, and excuses, which is a very fine line and hard to as a 'writer' of and about addiction and recovery. Happy to have given this read. This book will also help those who have no understanding of this addiction. It helps inform and educate those who may not other wise know the 'ugly side' of gambling addiction. Arnie and his wife Sheila are well-known in the gambling addiction and recovery area. They have helped many in their professional business from this terrible disease through Wexler & Associates. Well written, and a great read!
.
So there you have it! My most recent books I have read in 2016 ~ 2017 so far, and my fabulous reviews for each. So I hope all you readers love a good read and find a GOOD one here! I hope you grab a copy of each of these fantastic reads by these "Fine  Indie Authors" and my Friends 🙂
Now here are more of my books I have read and more reviews!
___________________________________________________
Author, Hannah Warren and her book titled:  "Psychic Confessions",
( The cottage on the border series ~ Book 1)
.

.
My Book Review:
Hannah has done a fantastic job with her new novel series, Book 1 of Psychic Confessions. This read has everything you'd want in a suspense thriller. It deals with a families past pains, mental stability, dark secrets, mysteries, and much more. There is murder, mystery, intrigue through out each page of this wonderful storyline which spans 6 decades as Jenna reveals.
When you don't think you can take anymore heart-break, or take more emotional turmoil of the revelations Jenna stumble upon, more storyline past haunts melt into Jenna's present. When she begins to have memories of her mother's death by suicide, and she ends up in an orphanage at age three, and her life starts to take off from there. But Jenna's own life becomes pulled apart, her adopted brother Vincent, and Jenna's psychiatrist, a good friend take her away to a cottage to try and help her recovery from her own brush with death, and attempted suicide.
Now even though this book is a work of fiction, many who know me know I battle my own real life mental and emotional health conditions, so this book really spoke to me. I could feel the pain Jenna was going through, and that is when you know a writer is very special like Hannah Warren. And even though again it's fiction, some of this storyline collided with my real life past emotional haunts. That is why I was hooked from the beginning to the last page of this fantastic read!
BRAVO Hannah! You have done a wonderful job with book one of this new novel series! I truly can not wait for the next book of this series to come out. And as the book blurb details:, "Psychic Confessions is a tale of murder, mystery, intrigue, familial despair, heartbreak, and spiritual resurrection". . Great Family Saga & Thriller Read!
She definitely gets a 5 Stars from me. And a top-notch recommended read.
.
About The Author:
Hannah Warren was born in Paris (Fr.) in 1956 as a second child to a Dutch father and an English mother. She has lived in The Netherlands almost all her life but has a strong connection with France, UK and Holland.
She studied Dutch literature and Mass communication at the University of Amsterdam and also obtained a B.A. in English Literature & Language and a B.A. in Translation from Rotterdam University. She currently works at the International Office of HZ University of Applied Sciences in Vlissingen.
From the early age of 8, Ms. Warren has written poetry and short stories but it took her fifty years to become a published author. Her debut novel, the literary romance Casablanca, My Heart was published in June 2014 by Thorstruck Press. Psychic Confessions, first book in the series The Cottage On The Border (November 2014,
Hannah's second novel and positions her as a writer of suspenseful family sagas.
______________________________________________________
Author, Sharon Hicks titled, "How to Grab a Naked Lady" A Memoir.
Sharon and I met through social media and decided to gift books to one another. I'd started reading it a bit ago, and then, well, life got in the way. So I picked up where I left off, and it's a hoot and interesting so far. Here is my review I shared on GoodReads. I just loved this read!
.
Author, Sharon L Hicks  ~ "How Do You Grab A Naked Lady?" A Memoir …
Just WOW! What a fantastic memoir & read!
.
I can honestly say I had a very hard time putting this one down when I started! Author, Sharon hicks did an outstanding job with her Memoir. It's an inside view of family life not so normal and proves not all families live up to that "White Picket Fence" dynamic. Sharon did an excellent job taking readers on a journey of words with sharing important issues with Bipolar/Mental illness of her mother. How our parent's lives can shape our own in adulthood. I always say that 'Parents' set the example for their children. As children, we are like sponges. We soak in all we see and hear of what are parents do and say.It truly is a great, raw, honest account of family many will find interesting, not just families who may have someone living with Bipolar, but for all types of family life. I also could relate some of what here mother went through as I suffer Bipolar myself. But, I never did run Naked and Free before!! But it is a delightful read. We learn not all of us come from perfect households, but we learn to cope and accept what is at the moment. Sharon has a way with words that holds & peeks your interest to keep turning those pages. That's when you know you're a fine writer.
I really loved her writing style, and the way she kept some of this read funny, light, and with funny humor. I can not tell you how much I laughed out loud, and no one else was in the room!!  A Must Read! And why I gave it 5 Stars. A Must Read … Available on Amazon Book & Kindle.
______________________________________________
First up, "Failing at Fatherhood" A book for the imperfect Father  ~ By: Author, Jack Barr

Also, "Silent Echoes" by, Marilyn Fowler, Author ~ And UK  and Amazon Best Selling Author, A.R. Tirant (Rosie), New Novel Series ~ "Echoes from the Oasis" all long time book clients/friends.
Jack Barr, Award Winning Author, "Failing at Fatherhood – A book for the imperfect father"
.
( click book to buy on Amazon)
.
My Book Review:
"
It's Rare When A Book Takes Your Breath Away"
A true story that will touch your Heart.. A Mom's
Choice Award Winner!

My breath was taken away many times while reading Author, Jack Barr's book titled: Failing at Fatherhood, A book for the Imperfect Father.. ..It is a raw, honest, and open look at one man's faults when learning that his 3 day old 'Marley' has Down Syndrome, and how he reacts to this news. Even those with a strong "faith" can be rocked by such news.
We then tend to feel and think it was our fault somehow that this has happened to "my child."
.
Jack's book shows us all as the human people that we are. We are not perfect by any means, we do at times react before we think things through, and we are a work in progress for a lifetime. His open heart, spilling out all his faults is a very brave thing to do, even in our society when men are taught or raised to be strong, not to show feelings or emotions. Jack is like any other man. My heart hurt many times of his deep sharing, and raw account of his story. Like one reader mentioned in their review, this book will take you on an in-depth emotional journey. And that is how I felt when done reading this well-written book. I enjoyed his writing style, and like I did, take the reader on a journey.
.
And you could feel the rawness in his words when he wrote of Marley. She is now a sweet little 3 1/2-year-old darling that you will fall in love with!! If she doesn't to it by her photo on the front cover of the book?, reading more about her in Jack's book will do it. Jack has done an exceptional job at Raising Awareness of Down Syndrome with his first book. I hope he continues Marley's story, and the families in future books. It truly is worth the time to read.
.
About The Author & Family:
Three years ago, Jack and Jana did not know God would use their daughter, Marley, to forever alter their life plan. Marley was born with Down syndrome and that event sent Jack crashing into a sea of depression. "I could not overcome the question of, Why us God"?  Since that day, Jack and Jana have rerouted their plan to align with God's plan. They started, If They Had A Voice, an awareness campaign that focuses on Down syndrome abortions. Their story has been featured on CNN, CNN Mexico, Life Action News, and The Insight Channel.
To learn more about the Barr Family, please visit their website,  If They Had A Voice – Down Syndrome Support …._________________________________________________


"Silent Echoes"  ~ By Author, Marilyn Fowler ~ A Self-Help Memoir

My Book Review:
Now I have to tell you that I thoroughly enjoyed this book!It really hit home for me with the way Marilyn shares the stories of Mother and Daughter from generations past and present. It gets you thinking how each of our parents raised, a father from type of family background and a mother from another type can be brought into their relationship, and as to how they raise their own children. And if you came from a good home life, or not so good, it shows the complex reasons how that plays a huge roll in raising your own children.
This book also shows the strength also of the women of our past generations, and the rights and freedoms women today enjoy from the hard-working women of our past. They endured much for us women to be able to vote, attend school and college, equal pay, and so much more. I love the writing style Marilyn uses to make her characters come alive on the pages!
.
From the beginning of the 30's depression era, all the way to today, this read is a part of our lived history. I have the pleasure of knowing the author, and I can tell you she truly is a treasure. I told her how much I enjoyed her book, as I studied 'Women's History of the 20's & 30's' and that her book was a way better than my history book!
The story starts about a little girl of 10 going to 'Orphan Asylum' and life not ever being the same. And with her siblings waited for a promised reunion that sadly never came. Feeling all alone, even with others around you is a personal feeling I have felt myself from my own childhood abuse and trauma. And for a very long time, those echoes of anger, resentment, and fear instilled in Charlotte, as it did me for many years to come. This truly is a book, a journey of words all readers will be able to relate to, all the bad and the sweetness of life lived … And it's why I gave Marilyn's "Silent Echoes" 5 Stars on Amazon!
–  –  –  –  –  –  –
Marilyn's New Book just released titled; "Me and Granmama in the Hill Country"…
It's a "Delightful Read" for the whole family to enjoy! Now on Amazon Kindle & Books.
.
(click book to purchase on Amazon)
Book Review:
I was given this wonderful book to read, and what a historical journey!
It's a well written Historical Romance you won't soon forget. Here is a little more about Rosie, yes, I get to call her that as she has become a good friend. I will tell you one thing about her? This woman is everywhere! She has done a fine job in promoting her new novel where she had been born and raised, which in opinion, is one of the most beautiful places on earth, The Seychelles Islands.
.
Not only has Rosie written a beautiful fiction romance, she also shares many of the traditions, ways, and cultures of this beautiful part of the world. And the about a young woman, Anna who blossoms when she finds love. Even one of Rosie's written characters has my first name, Catherine. Now that made me feel special. But I'm pretty confident that was well planned in her book before we had ever met.
.
I also have to warn you about this  book when you start reading Rosie's book, be prepared to have a few late nights as I did. One night I didn't turn out my reading lamp until almost 2 am. Now that's a great read! I was so drenched into this storyline, the well written historical sites tells me the author did some research. But then again, when your born and raised where your storyline takes place, it is the past historical background Rosie really shines. She has a wonderful writing style I enjoyed as well. That's why I gave this beautiful read a 5 Star read, truly is worth your time to purchase and read!
About The Author:
Rosie Tirant-Longhurst, aka A.R. TirantRosie was born in the Seychelles in November 1958, the daughter of a policeman and the eldest in a family of four brothers and four sisters. She grew up on the northern coast of Mahe island, in the tiny seaside village of Beau-Vallon. Her working life started in 1975 as a nurse at Mahe's Victoria Hospital, followed thereafter by a career in the Hotel Industry. She emigrated to England in 1995 and now lives in West Sussex with her husband. She has two grown-up sons and a granddaughter._____________________________________________________________
Happy Reading Friends!
.
** PRESENTED BY ~  "CAT LYON'S Reading Den" of  Author, Catherine Lyon **