Hello Friends, Readers and Welcome All,
So I had gotten a wee bit behind in my reading, as I has a few new book promo clients just sign up for my book & social media services.  I just finished reading 3 new fabulous books, and listened to a new fantastic poetry CD by some new writers that I think you as readers will really enjoy.  So I thought I would do something a little different, and share a little review of each book I have just read.  I will still have them up on my Book Reviews page, but they were all so good I thought I'd share them here first.
So here we GO!
.
#1 By, Author, D. J. Burr ~ "I Just Wanted Love: Recovery of a Co-dependent, Sex, Love Addict"
Kindle Edition
Auto-delivered wirelessly
.
Book Blurb:

D.J. Burr is a man on a mission; successful business owner, highly respected psychotherapists and survivor of a dysfunctional life. At a young age, all he wanted was to be loved, but instead found himself targeted by a sexual predator. D.J. slipped into a life of addiction and clawed his way through broken relationships and seedy sex clubs–looking for love in all the wrong places. D.J. will take readers on a roller coaster of emotions as he details his search for grace and love.
.
My Book Review: 5 Stars!
.
A Hearts Journey of Recovery, .  .  .  What an excellent read. Being brave to share ones story in a way that those in recovery or not can understand, learn, and have compassion is exactly what this Author was able to accomplish with his book. Being in recovery over 8 1/2 years myself, I know the struggles we go through to recover. And also being a recovery writer and author myself, I know how difficult it is to write what many of us go through with any addiction, let alone a sex addiction and more. And a man sharing his story is not your usual find.
Reading D.J.'s story has touched me deeply. I to could relate to family and friends who turn away, and even though our addictions are different, I to spent years just looking to be loved unconditionally, and had many bad relationships, forced ones, ones with men who mistreated me, just because I wanted SOMEONE, ANYONE in my life. But then having that intense need for sex, and thinking it will fill those empty holes in our lives must have been hard to go through. Let alone the health risks as well.
Many 12 Step Recovery Programs tell us we can recover without having to know the WHY'S of us turning to addiction in the first place. Well, this book proves that many of us do find the underlying issues, and past childhood trauma and being raised like I was in a dysfunctional life can effect many of us. Just an exceptional read! I'm patiently waiting for BOOK 2!
.
#2 by Author, Rachelle Du Bois ~ "Eve Vermont, Oak Series, Book 1"
Eve Vermont: Oak Series Book 1
Kindle Edition
Auto-delivered wirelessly
.
My Review: 5 Stars: A Delightful & Interesting Romance Read!
.
If you enjoy a good romance read? Then this book by Author, Rachelle Du Bois ~ Eve Vermont, Oak Series book 1 is a Must Read! The story was beautifully written, characters well performed in prose, and even though this is a work of fiction, I could feel for Eve when overcoming tragedy. Not very many fiction books can do that. Many of us like Eve feel we have no hope or future at times in our own life journey.But when love gets involved, hopeless or not, love will Triumph over Tragedy!
.
Just a wonderful romance read. Rachelle brought Eve's story to light, and the characters in this story line. Love can triumph if you keep your heart open.
#3 By Author, Christine Campbell on Smashwords ~ "With Vigilance A Women in long-term Recovery."
.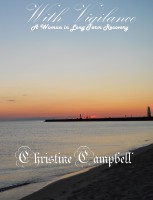 http://www.smashwords.com/books/view/442608
Book Blurb:
You are invited to read my memoirs, With Vigilance, a woman of long-term recovery. Someone told me my story is the key that can unlock someone else's prison. The slow, painful path back to becoming a functioning member of society, seeking employment, unlearning many messages, took much time, and many stumbles. The gifts and promises are shared along the way as well. I take an honest look at the low bottom of using, the many rehabs, the total lack of family support, and the celebrated 22 years of recovery while finishing my Master degree, Previous books on addiction glamorize and dwell mostly on the insanity of addiction and alcoholism. Freedom from the bondage of self takes time, patience and willingness. Long term sobriety takes work, doing what your told, especially when you don't understand why.                             
My Review ~ 5 Stars!
WOW!
What a story and life of addiction and triumph in recovery! I could so relate to Christine, her raw honest look into ones life after such damage and devastation, her story and inspirational recovery journey is going to 'touch and save' many lives.
It can be difficult to write about ones bad life choices we make within our disease, but Christine has proved sharing her own story, that no matter how "Hopeless" we can be within addictions? We can Recover if your willing to do the work, as I call it, . . "The inside Job" within ourselves to fix, change, and make amends to others, but importantly to yourself.
I would highly recommend this book for all to read, not just those in recovery, but for non-recovery people as well. They will get the understanding of how hard it is to recover. Especially when we have no family who don't support us. I was very inspired by this book. . . .Great Job and well written Christine!
#4 By, Author Ellie Pulikonda ~ "Split Second"
.
Auto-delivered wirelessly
.

Book Blurb:

When do a family's secrets become too dangerous to keep? Find out in Ellie Pulikonda's shocking debut novel,
Split Second
.Richard Reynolds, a successful attorney and wannabe politician, has spent years cultivating the perfect image—which includes his trophy wife, Deborah, and talented teenage daughter, Liz.But Liz threatens to ruin it all after severe depression forces her out of college and back home. After she attempts suicide, Richard rushes her off to a private hospital in hopes that the drama will soon blow over.
.
Run by Nick Jensen, the hospital seems to be exactly what Liz needs. But soon Nick uncovers some disquieting facts, like the fact that Liz's depression arose at the exact same time that a classmate was presumed murdered. Liz's uncanny knowledge of the crime's details only deepens Nick's unease.As Liz attempts to heal, her parents' marriage begins to crack in light of mutually held secrets coming to the surface. What is the Reynolds family hiding?
My Book Review ~ 5 Stars!
For a first time Author, Ellie has come out of the literary gates with a fantastic family mystery/psychological thriller! Most times as you follow a storyline closely, your able to figure the "Who Done IT,"  but not this read, which holds your attention from the first page to the last!
The plot and the characters are well written into a family drama that looks at many issues including mental illness. Something I battle myself. So the storyline was relatable and powerful. I found Ellie's writing style very unique for a mystery writer, an exceptional read for those who enjoy this genre. I highly recommend Split Second to all readers! Another 5 Star Read . . .
So there you have it. My last 4 new books I have read and my fabulous reviews for each. Even though I am a Book & Social Media Promoter? I'm still a lover of good reads too! I hope you grab a copy of each of these fantastic reads by Fabulous Authors!
Until Next Time Readers!
Author, Catherine Townsend-Lyon of "Lyon Book Promotions 🙂